Images
California Extra Virgin Olive Oil
Additional Information
Summary
Made from Arbequina olives, this delectable olive oil is delicious right out of the press and requires no extra processing. Its mild, buttery flavor tastes remarkable on bread, in marinades, salads or in cooking.
Nutritional Info
Ingredients

Ingredients: 100% Arbequina Extra Virgin Olive Oil
Non-Gluten Ingredients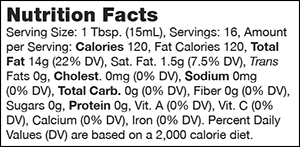 Get the scoop!
Love 'em or hate 'em, you have to admit, Brussels sprouts are one nutrient loaded veggie. We happen to love them and think of them as an entirely underrated vegetable that can be used in so many different ways.
See what's cooking