Ingredients
1 (8-ounce) wheel of Camembert Cheese
1/2 teaspoon fresh rosemary, finely chopped
2 Tablespoons walnuts or pecans, toasted
Directions
Preheat oven to 350 degrees F. Prepare a baking sheet by greasing lightly or lining it with parchment paper.
Making sure you only cut through the rind of the Camembert cheese, run a knife around the top (1/4-inch in from the edge of the cheese). Make several cuts across the cheese forming small triangles, and then gently remove the top rind forming a shallow cup to hold the jam.
Spread the Roasted Onion Garlic Jam over the top of the cheese. Sprinkle the rosemary and nuts on top. Place on baking sheet and bake 20 minutes, or until the cheese is warm and soft.
Transfer cheese to a serving dish with a spatula. Serve warm with crackers or French bread toasts.
Stonewall Kitchen Ingredients
Promotions
Mix & Match 4+ and SAVE 10%
Details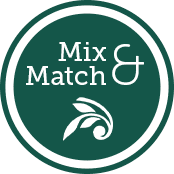 Stock up on your favorites, try something new, or create a collection as unique as you are. SAVE 10% when you order four or more of our full-sized jams, jellies and marmalades.